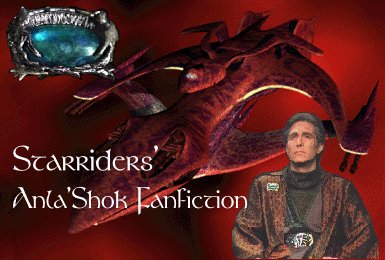 "The Pelethim," by Chinook6

Sinclair's Rangers and a crew of Minbari warriors are forced into an uneasy alliance in a race against time and the Shadows.
"How Entil'Zha Sinclair Got the Scar," by Sunraven

This story covers a little bit of Anla-Shok history while Jeffery David Sinclair is Entil'Zha. Some unanswered questions during the B-5 series are answered. The questions are: 1. How does Sech Durhan, the best pike fighting Master on Minbar, who formerly trained Warrior Caste (e.g. Alyt Neroon), end up teaching the Anla-Shok? 2. How did Sinclair become so Zen during his two years as Entil'Zha? 3. How did he get the scar that shows up for the first time in War Without End?
"Mor`Da`Dhum," by Sunraven text version

This is a tale of the Anla Shok when Jeffrey Sinclair was Entil'Zha. It involves a young worker caste Minbari Ranger trainee, Sallot, who undergoes the Mor'da'dhum - the application of terror

| fanfic index | main index |

Babylon 5 was created by J. Michael Straczynski (the great maker), and is a trademark of Warner Brothers.
All copyrights and trademarks are implied and acknowledged.