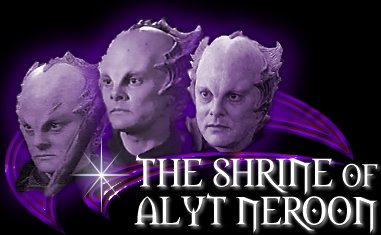 Star Riders is dedicated to Neroon, leader of the Star Riders Clan of the Minbari Warrior caste, played by the wonderful John Vickery, who has his own separate homepage with images, interviews, and articles about his work in theatre, film, and television (to include his portrayal of the suave, yet dangerous Mr. Welles on Babylon 5 and Crusade.)


We specialize in B5 fanfiction, with 27 stories up on the site. Starriders is proud to feature three of the most popular Neroon-based series on the web: The Terra Chronicles, The Long Trial, and The Ingata Stories.
New Fanfic: Part III of The Long Trial is now up !


We also have a large gallery of screen captures featuring images from all five Babylon 5 episodes in which Neroon appeared: "Legacies", "All Alone in the Night", "Grey 17 Is Missing", "Rumours, Bargains, and Lies", and the climactic "Moments of Transition". We also have an excellent sound archive of Neroon wav files, as well as downloadable email stationery and wallpaper featuring Neroon and Mr. Welles.


Test your knowlege of the Minbari with a quiz and see if you can make it to the Star Riders Quiz Hall of Fame. Check out the many ways Starriders Clan members express their creativity through costume design, jewelry, and original artwork. Join our mailing list to keep up to date with site changes!


STAR RIDERS is a fan-run website online since April 1997 and exists to celebrate shows such as Babylon 5. All copyrights are implied and acknowledged, and we always give credit where credit is due. This site is proud to have many contributors without whom we would not exist in our present form ! A huge thank-you to every author, picture-provider, fanclub and mailing list member, and anyone else who has helped this site. Star Riders has managed to bring people together and new friendships have been made, pretty good for the anonymous web ! You can contact the site owner via email at jvwebpage@pretallez.com

Many thanks to the Shi Alyt (Angua), who originated this site, and ran it from April 1997-March 2001, and whose creativity and enthusiasm is boundless.
Join our mailing and discussion list and
keep up to date with changes at this site !
~ please read the list rules first and please note minimum joining age is 18 ~
~ By joining the list you agree to abide by the list rules ~
~ Last amendment 24th October 2000, please read ~
| john vickery | neroon | fan club | episodes | gallery | fan fiction | artwork | clans | downloads |
| links & linking | awards | main index |
Last update : Cinco de Mayo, 2004
Found us outside frames ? Click here to load contents frame
All original graphics and page content © Star Riders [shipofdreams.net], no unauthorised reproduction.
Babylon 5 was created by J. Michael Straczynski (the great maker), and is a trademark of Warner Brothers.
All copyrights and trademarks are implied and acknowledged.
Designed at 800x600 and 16 million colours.