John stars in this adaptation of the classic Graham Greene novel, The Third Man. Also starring Kelsey Grammer, John Mahoney, Rosalind Ayres and Norbert Weisser.
This title is available on audio tape from the LA Theaterworks Audio Collection, or Audio Books Online.
The description reads : "Somewhere in shadowy post-war Vienna, where everyone has something to sell on the black market, lurks "the third man," who witnessed the murder of Harry Lime. The police don't care to investigate, but novelist Holly Martins is haunted by the death of his friend. His search for the killer makes electrifying drama, in this witty and sophisticated screen adaptation by Graham Greene."
It was recorded live in Santa Monica, CA, before an audience of 350, in 1995. LA TheatreWorks produces radio plays on a regular basis, in association with radio KCRW in Santa Monica.
Kelsey Grammer played Holly Martins
John Mahoney played Major Calloway
Rosalind Ayers played Anna Schmidt
John Vickery played the mysterious third man...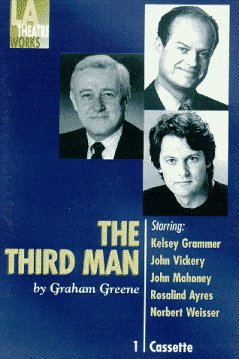 The tape sleeve for The Third Man