The Others is a show about the paranormal, and is from NBC. John appeared in episode 108, Don't Dream It's Over, as Jack the Ripper. A plot synopsis from the NBC site is as follows :

"A restless Mark (Gabriel Macht) is disturbed by his continuing dreams where he falls in love with a mysterious beautiful woman (guest star Tushka Bergen) from 19th-century London but he ignores Elmer's (Bill Cobbs) stern advice to stop his dalliance -- or risk his own destruction. In the meantime, a sheepish Mark asks lovestruck Marian (Julianne Nicholson) to help him channel through to his would-be lover, unaware that the dream woman could be marked for death by the notorious serial killer Jack the Ripper. Melissa Crider, Kevin J. O'Connor and John Billingsley also star. John Aylward guest-stars as Albert."

John's character, Jack the Ripper, appeared towards the end of the programme, sporting a large moustache. We have managed to find a few screen captures of John from this episode, see below and right.

Jack the Ripper was a notorious serial killer in Victorian London, who disappeared in 1888. There is a Babylon 5 connection here, as John has appeared in Babylon 5 as Neroon and Mr. Welles, and Wayne Alexander played Sebastian, aka Jack the Ripper, in the episode Comes the Inquisitor.
The Others Fan Site has more information on the show.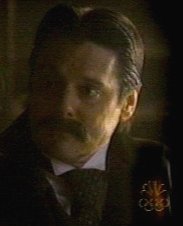 John Vickery as Jack the Ripper,
pic from The Others